Get Garden Obelisk Ideas in this free guide to adding large ornaments to any garden design or landscaping project. Obelisks, or Monoliths as they are often referred to, are usually thought of as natural stone columns that add texture and an organic ambience to an outside space. Obelisks can also refer to various fabricated plant support stands.
Stone Obelisks are often made from hard wearing rock such as granite, Welsh slate and Portland stone. The inherent durability of these materials and their natural beauty has captivated humans for thousands of years, dating back to Roman and even prehistoric times when sites such as Stonehenge, Tomen Y Mur and Pentre Ifan Burial Chamber were first constructed.
Stone Garden Obelisks
The easiest way to bring a neolithic obelisk vibe to a garden design is with stone monoliths. Small monoliths tend to be under 500mm in height, while larger monoliths can be sourced up to 2m in height! Smaller monoliths can be easier to work with in rockeries or borders due to their manageable weights, great for those who love to regularly rearrange their gardens. XL size obelisks tend to require more long term planning, as they are often the centrepiece of a wider landscaping project.
Stacked Garden Obelisks
It's possible to achieve a "stacked" appearance for a garden obelisk by using layered pieces of natural stone in incremental sizes. Often referred to as slate stack pyramids or stone stacks waterfalls, these towers of rock are perfect incorporated with ponds and large water features or as stand alone focal points in small and medium sized gardens. They make a wonderful statement in the centre of a front lawn.
For Light Tones
The fresh whites of Portland Stone are fantastic for both clean contemporary designs and rustic Cotswolds style gardens. To add a hint of warmth to a setting, Purbeck Stone is highly recommended for its rich yellows.
For Dark Tones
Welsh Slate wins every time! North Wales provides slate with rich deep plum and blue/grey shadows. Slate from South Wales tends to be blue/grey, with hints of copper and fools gold.
Wooden Obelisk Ideas
Planting support stands are often referred to as Wooden Obelisks, and the French call them "Tuteurs" as in "trainer". These are available in most mass produced garden centres like B+Q, Primrose and Homebase, although like most things in life you can also build your own obelisk or seek out premium options for more ornate, bespoke designs from individual craftspeople. We found a great board on Pinterest called "Wooden Garden Obelisks" that has a huge collection of ideas for both buying and building wooden obelisks for the garden.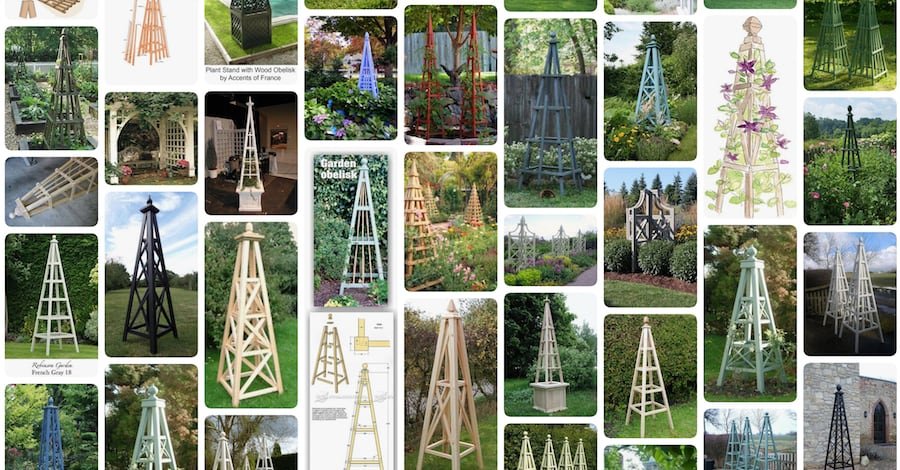 Metal Obelisks
Similarly to wooden obelisks, metal ones are most commonly used as plant supports, although it could be argued there is more opportunity to discover sculptural elements with metal incarnations. Pinterest again is a great place for ideas, we found this Metal Obelisk Board that has a huge variety of styles.