Sale!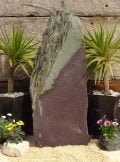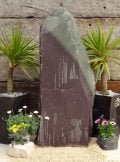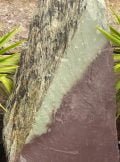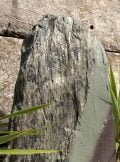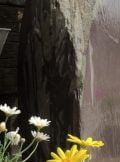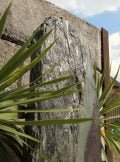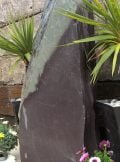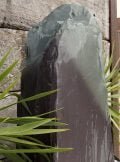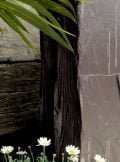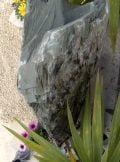 Slate Monolith SM138 Standing Stone
Slate Monolith SM138 is a breathtaking large tower of real Welsh slate, perfect as a focal point in a large scale garden design. At 1.2m tall and with it's stunning riven top in natural green this decorative standing stone will draw the eye in any outdoor setting.
1 in stock
| | |
| --- | --- |
| Dimensions | 500 × 180 × 1200 mm |
| Material | Welsh Slate |
| Colour | Blue, Green, Grey, Plum |
| Application | Decorative Stone, Standing Stone |
Slate Monolith SM138 is a large garden obelisk, hand chosen from a Welsh quarry for it's distinctive appearance and natural stone beauty. This piece has a striking colour contrast between the normal blue/grey/plum slate tones on the bottom and a completely natural streak of green across the top.  Landscaping rocks and standing stones of this quality are very rare and therefore highly sought after. The base is sawn flat and we recommend setting this stone monolith in concrete for maximum stability. Please note this is a completely unique piece and like all our Large Stone Monoliths there is only one available.