SALE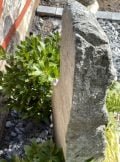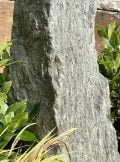 Slate Monolith SM184 Standing Stone
The subtle textures of real Slate are magnified on Slate Monolith SM184, with one edge sawn flat and the other has a natural riven finish. At exactly 1.5m tall, the base is thick and substantial and the stone tapers up to a point at the top.
Welsh slate decorative monolith
Complementary gravel available
1 in stock
| | |
| --- | --- |
| Dimensions | 360 × 220 × 1500 mm |
| Material | Green Slate |
| Application | Standing Stone |
| Colour | Green |
| Size | X Large |
Large Stone Monoliths are becoming increasingly difficult to source, and Slate Monolith SM184 is an excellent example of a striking piece to be included in a medium or large scale garden design. This imposing tower of real Slate echoes the countries' ancient neolithic locations such as Bryn Cader Faner near Harlech and Pentre Ifan Burial Chamber in Pembrokeshire. This piece narrows towards the top and is not suited as a water feature. If you're looking for a core drilled water feature monolith then Slate Monolith SM76 is more suited. It's worth checking out this Monolith Case Study for some kerb appeal inspiration. 
Slate Monolith SM184 is made from 100% natural Welsh Slate, sourced direct from the quarry and hand finished by Ioan Raymond in his Southampton Workshop. Many customers like to use monoliths with a number of our garden accessories, including slate stepping stones, 20mm chippings and LED Lighting (available in the basket when purchasing a monolith). Suitable for carving as it has a sawn flat edge. Please contact us to discuss your requirements for engraving. Only one available and pictures are of the exact piece. Stone Monoliths are perfect as focal points in landscape designs, they add beautiful natural stone textures and when combined with the Large Reservoir Pack its possible to bring the vibes of Welsh waterfalls to your garden. Natural stone and water help bring tranquility to an outdoor space, ideal for balancing harmony and increasing the potential for mindfulness in your garden.
You may also like…