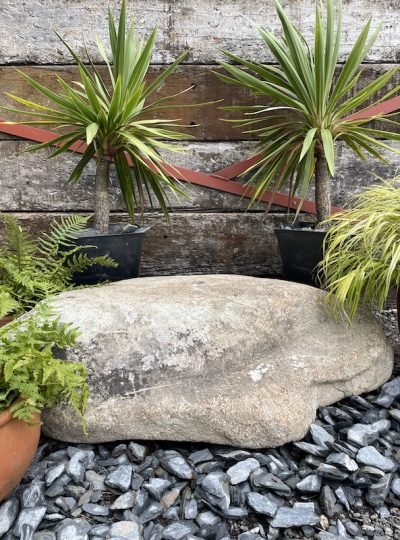 Granite Boulder GB38 Water Feature
Granite Boulder GB38 is an XL sized water feature full of natural earthy tones and textures with a weatherd aged feel to it. The side surface varies in texture with wonderful natural stone detailing throughout the piece. A slightly protruding ledge towards the front will create a little more interest as the water flows down at a slower pace. This could be placed in a border or rockery design and with the water flowing will create an idyllic calming oasis in the corner of a garden.
Add reservoir pack in basket.
£

695.00
Add to basket
Large Boulders by Welsh Slate Water Features are perfect for adding texture, accents and highlights to large landscaping projects. They work equally well in both contemporary and rustic themes, enhancing any space with natural stone ambience. Crafted from real Welsh Slate, Portland Stone, Granite & Quartz, our Large Boulders are over 500mm in diameter.
Some boulders are simply ornamental and others are core drilled to allow for water flow. We stock accessories to complete a garden water feature project and our guides
How To Install A Water Feature
and
How To Build A Rockery
both make useful reading.
All our Large Boulders are ethically sourced solely from Welsh and English quarries, finished by hand in Ioan Raymond's Southampton workshop. We pride ourselves in presenting the finest quality natural stone boulders, rocks and
water features
for gardens, patios, borders and commercial outdoor spaces.
Delivery is FREE for standard UK postcodes
. Please
Contact Us
for shipping quotes to remote postcode areas and for international delivery pricing.