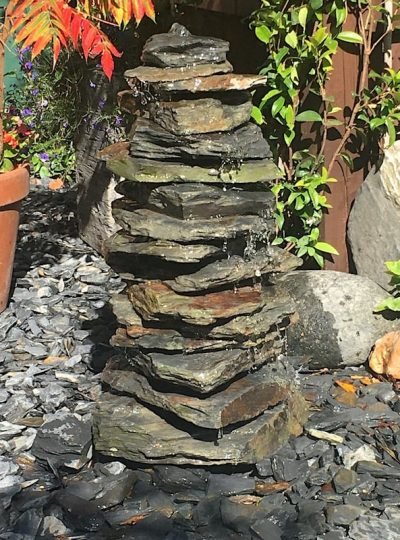 600mm Slate Pyramid Water Feature
600mm Slate Pyramid Water Feature core drilled with decreasing sizes and stacked to form a pyramid shape. The water drops down a ledge each time and resembles a mountain stream or waterfall. This feature makes a real statement in both modern garden designs and more traditional settings. Ethically sourced in Wales.
£

445.00
Add to basket
Slate Stack Pyramids by Welsh Slate Water Features are all crafted in the UK, with every piece of slate hand picked by Ioan Raymond himself. Shipping is FREE to standard UK postcodes. Contact us for remote area & international delivery quotes.
A small number of additional products are required to complete a garden water feature installation, namely a reservoir, pump, hose & clip. These are available in the Basket when purchasing a slate pyramid. Please refer to our guide "How To Install A Water Feature"and the Pyramid Quick Install video below.
Slate Stack Pyramid Water Features are a perfect way to create a focal point in both modern and traditional gardens. Welsh Slate reacts beautifully to water, the natural blues, purples and greys of this wonderful natural stone are enhanced by a constant stream across it's surface.
We also stock a range of complementary slate products, including our popular 300mm Stepping Stones, bulk loads of Slate Chippings and bespoke Slate Benches. Complete the look with either Black or Plum slate rockery pieces. Our range of Garden Design Kits gives customers the choice of matching garden products and accessories.
Our slate stack pyramids start at a height of 600mm, which is an ideal size for smaller gardens, particularly as the focal point of the design. Sizes increase in 150mm increments, all the way up to our XL 1.8m pyramids which are dramatic centre pieces in both medium and large landscaped spaces. All pyramids are supplied with our bespoke stainless steel base plates for maximum stability.
Visit our
Landscapers & Garden Designers
page to discover tradespeople who are already familiar with installing
Welsh Slate Water Features
products. Our range of slate stack pyramids is directly influenced by the Welsh mountains from where they are sourced, view unique photos of Wales in the
Inspiration Gallery
, with wonderful original images taken by the Welsh Slate Water Features team.