Pentre Ifan Burial Chamber
Pentre Ifan Burial Chamber is the most striking megalithic monument in Wales. At around 5000 years old this Portal Dolmen tomb is a must see tourist location for visitors to the beautiful Pembrokeshire coastline, just a couple of miles off the main coastal road near Newport.
Four large stone monoliths stand vertically, supporting the horizontal 5m long capstone, a huge slab of Pembrokeshire slate. This was the centre of the monument when originally built. It's thought that smaller boulders were piled high from a radius of around 18m, creating a loosely pyramid shaped cairn with the monoliths at the heart of the structure.

On arrival of the ruins, the first thing that comes to mind is "how on earth have these stones not moved in 5000 years?" after an intrigued look around the stones, the natural beauty of the location really shines through. Pentre Ifan has a real sense of peace and tranquility and it is clear to see why its creator had chosen this particular spot. It's interesting to note that many of the monoliths at Stonehenge were sourced from quarries close to Pentre Ifan, in the Presili Hills.
Spending time at Pentre Ifan lends to pondering new and different life perspectives it offers an opportunity to feel close to our ancient past and heritage and is an ideal place to practise mindfulness or yoga. The calming effects of these giant natural stones in a beautiful outdoor space is why our range of Welsh slate garden products is so popular in garden designs across the UK. It highlights our deep connections with the earth, providing enhanced organic enjoyment of one's garden space.
1:5 Scale Pentre Ifan
We had an unusual request from a customer looking for bespoke stone – to recreate the look of Pentre Ifan in roughly 1:5 scale as a garden feature! We sourced three matching stone monoliths and one of our waterfall ledges worked beautifully to replicate the enormous capstone.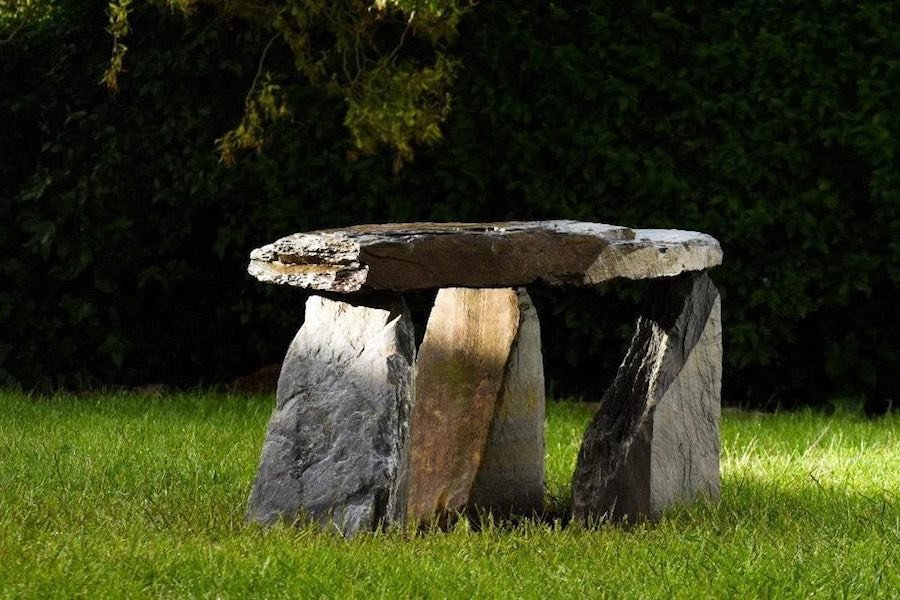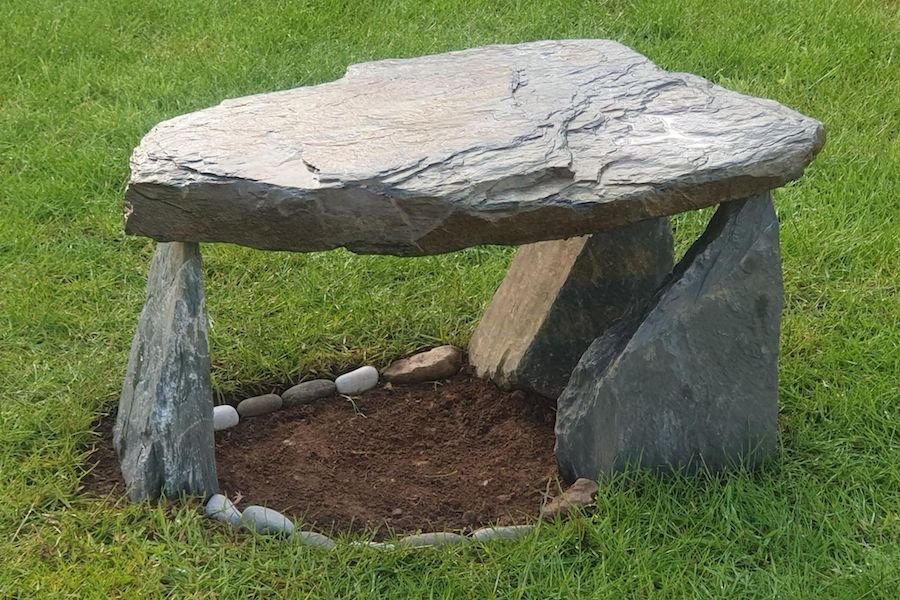 Pentre Ifan Videos
A selection of video clips that showcase this amazing megalithic site in South Wales. All content is from YouTube and we have tried our best to choose the most relevant videos, although be aware these videos are the property of their creators (not us!).
Find Pentre Ifan Burial Chamber
Pentre Ifan Burial Chamber is located 5 miles south east of Newport, off the A487 main coast road on a narrow lane that leads up into the hills. A small road side layby has enough space for 3 or 4 cars. Hidden in the corner of the car park is a barely noticeable stile gate that leads onto a short footpath, less than a minutes walk from the stone monument.