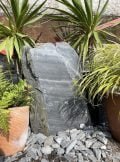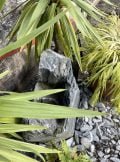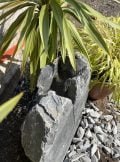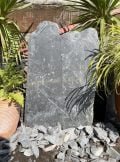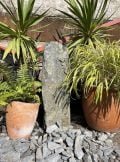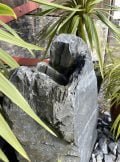 Slate Monolith SM99 Standing Stone
£445.00
At just under 700mm tall, Slate Monolith SM99 has a flat clean face which is ideal for engraving with a name, logo or message. The subtle textures of real Welsh Slate are magnified on this beautiful Large ornament with every side covered in unique natural stone detailing.
Welsh slate standing stone
Contact us for a custom engraving quote
This piece can not be drilled as a water feature
1 in stock
| | |
| --- | --- |
| Dimensions | 450 × 200 × 700 mm |
| Material | Welsh Slate |
| Application | Standing Stone |
| Colour | Fools Gold, Mixed, Rustic |
Medium Stone Monoliths are becoming increasingly difficult to source, and Slate Monolith SM99 is an excellent example of a striking piece to be included in a medium or large scale garden design. This imposing tower of real Welsh Slate echoes the countries' ancient forts such as Dolwyddelan Castle near Betws Y Coed and Pentre Ifan Burial Chamber in Pembrokeshire. This piece is ideally suited as a memorial stone or as a marker stone as the face is so flat it can easily be engraved. Smaller slate monoliths descending in size would complete this feature and make a great focal point. We can supply smaller monoliths and rockery pieces to compliment this stunning slate monolith.
Delivery is via trusted courier or by Ioan Raymond himself. Slate Monolith SM99 is made from 100% natural Welsh Slate, sourced from a North Wales quarry and hand finished by Ioan Raymond in his Southampton Workshop. Many customers like to use monoliths with a number of our garden accessories, including slate stepping stones, 20mm chippings and LED Lighting (available in the basket when purchasing a monolith).
Stone Monoliths are perfect as focal points in landscape designs, they add beautiful natural stone textures and when combined with the Large Reservoir Pack its possible to bring the vibes of Welsh waterfalls to your garden. Natural stone and water help bring tranquility to an outdoor space, ideal for balancing harmony and increasing the potential for mindfulness in your garden.
This piece is not suitable for drilling as a water feature but is suitable for carving as it has a flat face.

You may also like…