Japanese Gardens are world renowned for their symbolism, simplicity and deep connections to nature. With many Japanese gardens in the UK to visit there are lots of places to look for inspiration. Whether you would like to get ideas for creating your own Japanese garden or want to soak in the beauty of them, our guide will give you all the info for the best Japanese gardens to visit across the uk.
Japanese Gardens in England
There are many examples of Japanese Gardens to visit across England, here are some of of the best…
Tatton Park
The Japanese Garden was almost certainly the result of Alan de Tatton's visit to the Anglo-Japanese Exhibition in London in 1910. He got together a team of Japanese workmen to create what is now rated to be the 'finest example of a Japanese Gardens in Europe'.
Birmingham Botanical Gardens
The Garden is described as a Courtyard Garden or 'tsubo-niwa' (garden between buildings) and was built with the help of members of the Japanese Garden Society. It contains elements of several styles.
Pure Land Meditation Centre & Japanese Gardens
Maitreya's main aim in creating the garden was to provide a peaceful, beautiful area which guests and visitors to the centre could enjoy. So in 1980 he began the process of transforming two acres of flat field and wilderness into a Japanese garden. It also holdsthe world's first crystal garden.
Walkden Gardens
The garden is divided into three areas, each with distinctive characteristics. Archways and see-through bamboo screens separate these areas.
Royal Botanical Gardens, Kew
Combining a Garden of Peace, a Garden of Activity and a Garden of Harmony, our Japanese Landscape is the ideal spot for quiet reflection.
Barnsdale Gardens
Split into two distinct halves by a winding slate path to illustrate two very different styles of garden found in Japan. Each item is meticulously placed as it has real significance within the holistic look and feel of the space.
The Japanese garden
The Japanese Garden in Cornwall provides an authentic Japanese
garden design in an idyllic Cornish setting. Built as a meditative garden it is the perfect space where one can calm the mind & let go of unwanted stress through contemplation & reflection
compton acres
The Japanese Garden encompasses Thomas Simpson's love for the unique elegance and incomparable beauty of Japanese horticulture.
Capel Manor Gardens
Japanese Garden (which seeks balance between the 'in' and 'yo' – the Japanese equivalent of the Chinese 'yin' and 'yang').
Japanese Gardens in Wales
Amazingly, there is only one open Japanese garden to visit in Wales, but my is it a good one!
National Botanic Garden of Wales
This Japanese garden is called 'Sui ou tei', which refers to the national flowers of Japan and Wales, the cherry blossom and the daffodil.
Combining three different traditional Japanese garden styles: the pond-and-hill garden, the dry garden and the tea garden.
Japanese Gardens in Scotland
Scotland has a host of Japanese Gardens open to visit and explore including Britains first permanent …Zen garden
The Japanese Gardens at Cowden ​
Enjoy the historic Japanese Garden and woodland walks, which once connected Ella Christie's home, Cowden Castle, to Sha Raku En (the place of pleasure and delight).
St Mungo Museum of Religious Life and Art
This was Britain's first permanent Zen garden, designed in the Japanese Zen Buddhist tradition to mirror the deep calm of the natural world in a highly stylized way. The garden provides a place of silence and tranquility where visitors can still the mind and achieve inner peace.
STOBO JAPANESE WATER GARDEN​
There are still many facets from the original Japanese garden in place which include lanterns, a tea house, humpback bridges, stepping stones as well as specialist trees and shrubs of Japanese origin.
Atholl Palace Hotel​
As you pass the iconic Gate Lodge you will glimpse the red bridge and water features of the Japanese Garden. The driveway twists and turns to reveal different vistas as you travel, past three ponds.
Attadale Gardens​
Five elements of traditional Japanese garden design were incorporated into this garden: The river of life, borrowed landscape, water basin, dry garden and Japanese plants/trees
Lauriston Castle
Lauriston Castle is a hidden gem in Edinburgh with beautiful free grounds cradling the sea and with stunning views. Spend time relaxing in our calm and tranquil Japanese garden.
Buy Japanese Garden Stone
Welsh Slate Water Features supply hand selected natural stone perfect for Japanese garden designs. Our standing stones are chosen for their exquisite natural detailing and how their tones will help create harmony and balance in any landscaping project.
View All Japanese Garden Stone
Buy online for Free UK Delivery*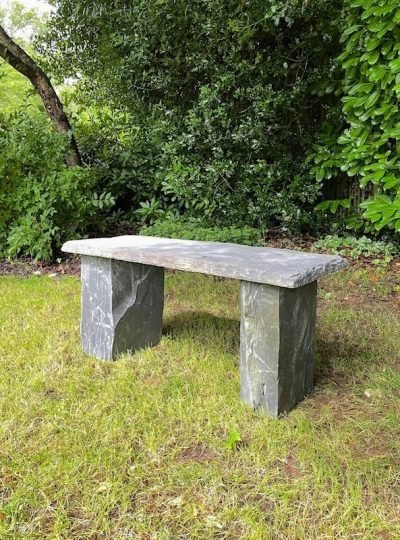 Welsh Slate Bench
Welsh Slate Bench for the ultimate rustic garden seating. Hand crafted slate blocks as feet and a large top slab as the seating area. Our benches have a chiseled edge finish with a natural clean riven top.
£

529.00
Add to basket