The Garden Show @ Stansted Park
Welsh Slate Water Features were proud to be among the exhibitors at The Garden Show @ Stansted Park, held across the 4th, 5th and 6th of September 2020.
The Garden Show is the best place to find unique garden products from independent companies, talk to experts, see live demonstrations and generally have a fantastic day out with all things home and garden.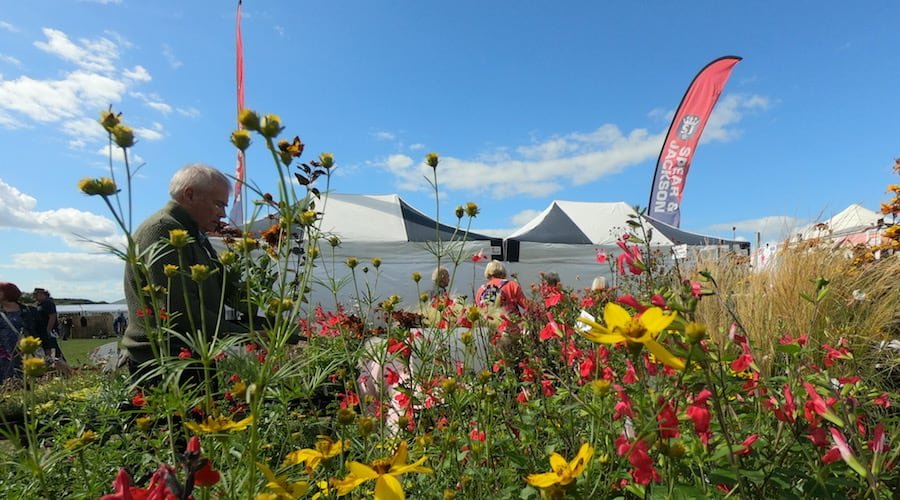 Our Display @ The Garden Show
We took two working garden water features to The Garden Show this year, a 900mm slate stack pyramid and a 4 hole water feature wine rack. Both pieces attracted attention throughout the show, the mixture of natural stone and flowing water drawing every passing visitor's eyes!
We also had a number of garden boulders and feature ornaments for garden designs, all crafted from Welsh Slate and Portland Stone ethically quarried in the UK. Our new Welsh Slate Birdbaths proved really popular, selling out of all we took to the show.
We also featured our sister website's interior slate products, with many Slate Wine Racks and Gin Ledges leaving the show to discover their new homes.
Featured Exhibitors
Watch our show vlog video above to get a real feel for the Stansted Park event, and check out these fantastic independent UK craftspeople and businesses!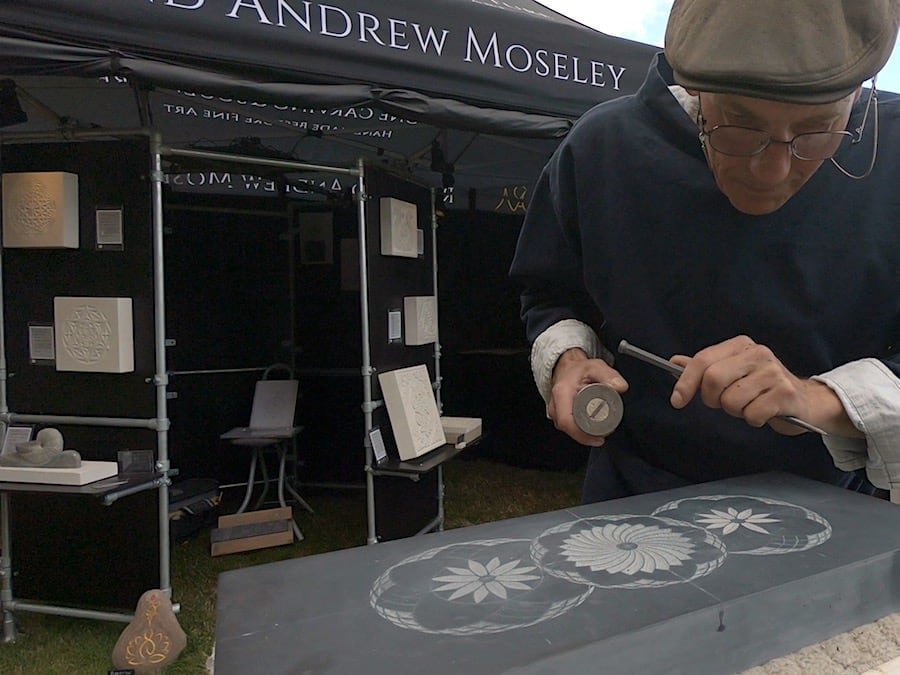 Raymond Moseley
Intricate and detailed natural stone carving from a master craftsman. Ray is an enthusiastic and passionate artist and this shines through his work and chirpy smile. Offering live demonstrations and a well lit and arranged display of his work, Rays stall was engaging and deeply impressive. Showcasing many rich influences from his historic building roots and beyond.
Willowpool Designs
Creative willow weaving for schools, events, festivals and groups! Steve was a friendly fellow Northerner based near Kendal in the Lake District. His beautiful handmade willow designs caught our eye early on in the show and watching his live demonstrations of willow weaving proved to be super relaxing. His stall was adorned with magical hanging stars and hearts intertwined with colourful ribbon where he sat nestled amongst them.
Japeto
Beautiful and multi-purpose Japanese garden tools with personalisation options for giftware. Our neighbouring stall Japeto offered some fantastic multifunctional Japanese gardening tools which proved very popular with the crowd. James and his team were super friendly and keen to offer advice – he can be seen talking to us about their bestselling 'Hori Hori' Knife in our vlog.
Sue Colyer
Contemporary watercolour artist with breathtakingly beautiful prints and original works for sale. Sue's stall drew us in with her beautifully captured memories in abstract forms, enabling customers to attach their own memories to her pieces.
Neil Taylor Furniture
Hand crafted stools from natural wood. Neils beautifully handcrafted wooden furniture caught our eyes instantly, his skilled craftmanship was evident in his unqiue designs. Neils relaxed demonstrations offered an opportunity to see the range of tools used and the process involved.
Visit Stansted Park
Stansted Park is located in the south west corner of the South Downs National Park, close to Southampton, Portsmouth and Chichester.
Sat Nav postcode: PO9 6DX