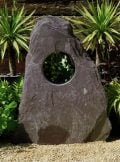 Window Stone WS14 Standing Stone
£720.00
Window Stone WS14 is a stunning contemporary garden feature crafted from Welsh Slate. Predominantly plum in colour it features a large angled, rippled edge. Welsh Slate looks equally at home in both traditional and contemporary garden designs.
Out of stock
| | |
| --- | --- |
| Dimensions | 680 × 250 × 900 mm |
| Colour | Plum |
| Diameter | 235mm (window) |
| Material | Welsh Slate |
| Application | Decorative Stone, Standing Stone |
Slate Window Stone WS14 is a great alternative to the traditional garden stone monolith. Window Stones provide a frame for unique view, acting as a focal point and centre piece stone water feature in small and medium sized gardens. Careful placement with regard to the sun's position could allow this window stone to be flooded with golden light at sunrise or sunset. Alternatively, the window can frame a favourite plant or area of a garden and they are sometimes called Portal Rocks. Larger gardens can of course also find homes for Window Stones, as they integrate well as part of a wider landscaped design. Natural stones like Window Stone WS5 are very unusual, unique and simply cannot be mass produced in large quantities. Read more in our Guide To Window Stones.