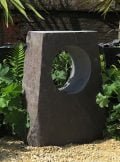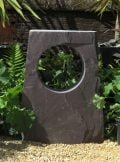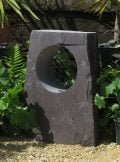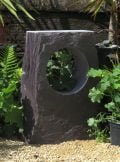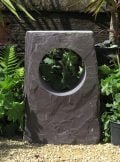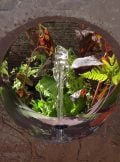 Window Stone WS11 Water Feature
£475.00
Window Stone WS11 is a stunning contemporary garden water feature, hand crafted from Welsh Slate. Predominantly plum in colour with a nice contrasting quartz coloured top.
Window Stone water feature
Reservoir & Pump available in the Basket
1 in stock
| | |
| --- | --- |
| Weight | 196 kg |
| Dimensions | 400 × 180 × 560 mm |
| Colour | Plum, Quartz |
| Diameter | 225mm ( window ), 30mm (water flow) |
| Material | Welsh Slate |
| Application | Decorative Stone, Standing Stone, Water Feature |
Slate Window Stone WS11 is a great alternative to the traditional garden stone monolith. Window Stones provide a frame for unique view, acting as a focal point and centre piece stone water feature in small and medium sized gardens. Larger gardens can of course also find homes for Window Stones, as they integrate well as part of a more substantial landscape design. Some people refer to window stones as Portal Rocks. In addition to the main core drilled hole this piece is also drilled vertically to allow for a water flow, completed with our additional Large Reservoir Pack that can be purchased in the Basket. Careful placement with regard to the sun's position could allow this window stone to be flooded with golden light at sunrise or sunset. Alternatively, the window can frame a favourite plant or area of a garden.
You may also like…