Stone Monolith SM143 is a gorgeous boulder style stone, perfect as a garden design focal point. The natural light, earthy tones on this piece are incredibly rare and highly desirable. With our Large Reservoir Pack this stone obelisk is transformed into a stunning water feature (available in the basket).
Water Feature Accessories
Add a Large Reservoir Pack to complete the water feature functionality of this natural stone. Slate Chippings in hand 18kg bags are a popular accessory.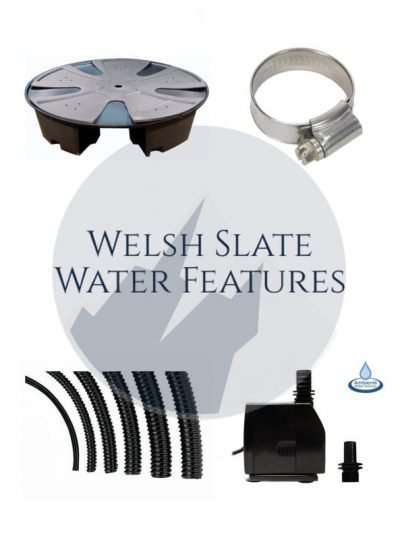 Featured Products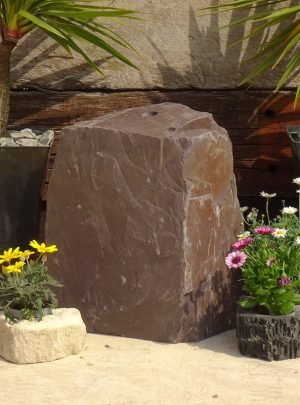 Slate Monolith SM121 Water Feature
Slate Monolith SM121 is a lumpy square piece with a fairly flat sloping top. This will create a slow pooling of water before cascading down over the stone. This feature will add an instant aged look to a garden, rather than waiting for nature take its course. Weathered obelisk stones like this are in high demand and increasingly difficult to source. Standing at 500mm tall, the subtle textures of real Welsh Slate are magnified on this beautiful medium garden ornament.
Reservoir Pack available in the Basket.
£

495.00
Add to basket
Granite Boulder GB20 Water Feature
Granite Boulder GB20 is a unique triangular piece of natural stone, core drilled for water flow and soft creamy yellow tones. This piece will be a beautiful addition to any garden border or rockery in a small garden design. Only one available.
Reservoir & Pump available in the basket.
£

175.00
Add to basket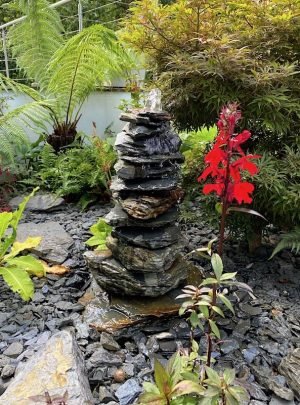 600mm Slate Pyramid Water Feature
600mm Slate Pyramid Water Feature core drilled with decreasing sizes and stacked to form a pyramid shape. The water drops down a ledge each time and resembles a mountain stream or waterfall. Gallery images are genuine customer photos of 600mm pyramids installed in real UK gardens. Stainless steel base plate included. Reservoir and pump available in the basket.
£

475.00