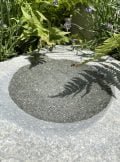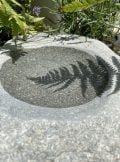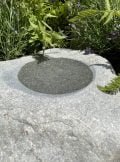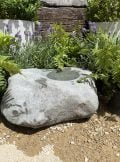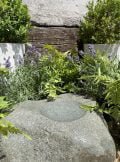 Stone Bird Bath SBB7
£345.00
Stone Bird Bath SBB7 is a stunning modern bird bath crafted from a single granite boulder with water bowl. The inner bowl has been polished to a smooth finish.
Out of stock
| | |
| --- | --- |
| Dimensions | 500 × 400 × 250 mm |
| Material | Granite |
| Application | Bird Bath, Garden Border, Pond Accessory, Rockery, Wildlife Table |
| Colour | Green |
| Diameter | 200mm (water bowl) |
Stone Bird Bath SBB7 measures 500mm long and will make a stunning addition to any contemporary garden design or patio space. This medium size boulder is naturally flat with a carefully cut and polished bowl at th top with space for water to help
encourage wildlife to a garden
. The green tones vary against the natural colour of the granite and the smooth polished curves which appear darker when full of water, creating stunning reflections and shadows. Please note this piece is quite heavy and although a one man lift, will need to be moved with care and planning.