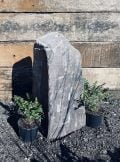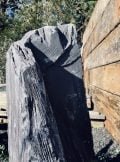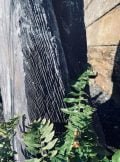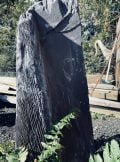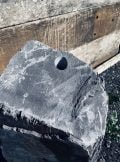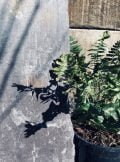 Slate Monolith SM112 Water Feature
£695.00
Slate Monolith SM112 is a weathered, organic standing stone water feature with some quirky detailing on one side. The surface varies in texture with wonderful natural stone detailing throughout the piece.
Large Reservoir Pack and LED Lighting available in the Basket.
Out of stock
| | |
| --- | --- |
| Dimensions | 340 × 300 × 880 mm |
| Colour | Plum |
| Diameter | 30mm (water flow) |
| Material | Welsh Slate |
| Application | Decorative Stone, Standing Stone, Water Feature |
Large Stone Monoliths are becoming increasingly difficult to source, and Slate Monolith SM112 is an excellent example of a striking piece to be included in a medium or large scale garden design. This imposing tower of real Welsh Slate echoes the countries' ancient forts such as Dolwyddelan Castle near Betws Y Coed and Pentre Ifan Burial Chamber in Pembrokeshire. This piece can be combined with our Large Reservoir Pack that includes a reservoir, hose, clip & pump to complete the water feature set up. Please refer to our How To Install a Water Feature guide for detailed installation information.
Delivery is via trusted courier or by Ioan Raymond himself. Slate Monolith SM112 is made from genuine Welsh slate, sourced from a North Wales quarry and hand finished in the Welsh Slate Water Features Workshop in Southampton. Many customers like to use monoliths with a number of our garden accessories, including slate stepping stones, 20mm chippings and LED Lighting (available in the basket when purchasing a monolith).
Stone Monoliths are perfect as focal points in landscape designs, they add beautiful natural stone textures and when combined with the Large Reservoir Pack its possible to bring the vibes of Welsh waterfalls to your garden. Natural stone and water help bring tranquility to an outdoor space, ideal for balancing harmony and increasing the potential for mindfulness in your garden.
[kad_youtube url="https://youtu.be/Qk6f-H9Tlac" maxwidth="100%" modestbranding="true"]