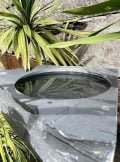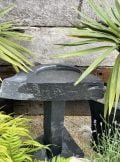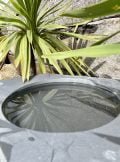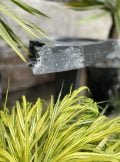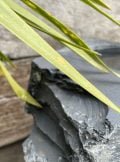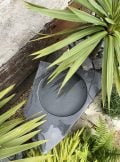 Slate Bird Bath SBB8
£295.00
Slate Bird Bath SBB8 is a beautiful angular modern wildlife table, perfect for a contemporary garden design. Crafted from hand selected pieces of ethically sourced real Welsh Slate, the photos are of the exact wildlife table for sale.
1 in stock
| | |
| --- | --- |
| Dimensions | 500 × 350 × 600 mm |
| Material | Welsh Slate |
| Colour | Grey |
| Diameter | 240mm (water bowl) |
| Application | Bird Bath, Garden Border, Rockery, Wildlife Table |
Slate Bird Bath SBB8 is the perfect wildlife table for a contemporary garden design, or a traditional setting where some sharper angles are required to add contrasting textures. Made from ethically sourced genuine Welsh Slate, this bird bath is supplied with a stand and plinth, both crafted from real slate. It can be used as a freestanding piece on level ground, or set in a concrete base for maximum stability. The perfect accessory for encouraging wildlife to your garden.
Bird Baths come in a variety of materials, such as modified tree trunks and mass produced concrete moulds. Slate Bird Bath SBB1 is crafted from hand selected pieces of slate and is ideal for modern landscapes wishing to attract more wildlife to the garden. It's worth checking out our series of guest blogs with UK wildlife photographer Gareth Kelley, such as "Common Birds To Spot In Your Garden" and "Top 5 Rare Garden Birds". The posts include Gareth's wonderful images, unique descriptions and even sound clips of bird songs!
You may also like…