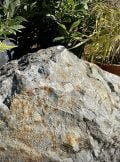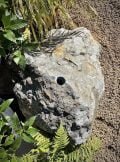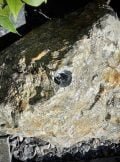 Quartz Boulder QB41 Water Feature
£745.00
Quartz Boulder QB41 is a large sized water feature full of colour with rich veins of quartz running throughout. No smooth sides in sight with jagged rock style features a plenty. Drilled dead centre to create an even flow, the water will cascade down at a fairly even pace and faster in certain parts as the water finds its natural course . This could be placed in a border or rockery design and with the water flowing will create an idyllic calming oasis in the corner of a garden.
Quartz Boulder water feature
Reservoir & Pump available in the Basket
Out of stock
| | |
| --- | --- |
| Dimensions | 800 × 650 × 450 mm |
| Material | Granite, Quartz |
| Colour | Cream, Fools Gold, Grey, Mixed, Orange, Quartz, Rustic, White |
| Diameter | 35mm (water flow) |
| Application | Water Feature |
Quartz Boulder QB41 is an excellent example of a striking piece to be included in a medium or large scale garden design. This colourful piece of real Welsh Stone with a mix of colours will sparkle when the water starts flowing. Pieces of quartz and copper colours are mixed in randomly throughout this piece with angled edges a plenty.  This boulder can be combined with our Large Reservoir Pack that includes a reservoir, hose, clip & pump to complete the water feature set up. Please refer to our How To Install a Water Feature guide for detailed installation information.
Inspired by boulder designs that have been sawn twice, top and bottom, we thought this would work euqally well with a colourful, rustic piece of welsh slate. Delivery is via trusted courier or by Ioan Raymond himself. Quartz Boulder QB41 is made from genuine Welsh stone, sourced from a North Wales quarry and hand finished in the Welsh Slate Water Features Workshop in Southampton. Many customers like to use monoliths with a number of our garden accessories, including slate stepping stones, 20mm chippings and LED Lighting (available in the basket when purchasing a monolith).
 XL Stone Boulders are perfect as focal points in landscape designs, they add beautiful natural stone textures and when combined with the Large Reservoir Pack its possible to bring the vibes of Welsh waterfalls to your garden. Natural stone and water help bring tranquility to an outdoor space, ideal for balancing harmony and increasing the potential for mindfulness in your garden.
Add reservoir pack in basket. Only one other piece this colour in stock, which can be drilled upon request but is not as evenly rounded like Quartz Boulder QB41.
You may also like…