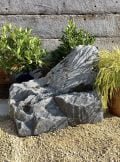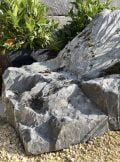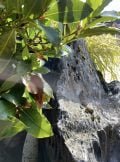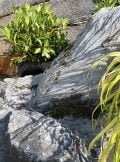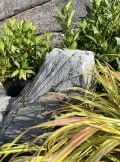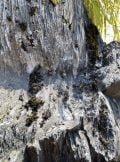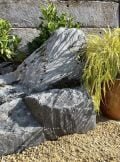 Japanese Monolith JM25 Standing Stone
£795.00
Japanese Monolith JM25 is a beautiful standing stone crafted from real Welsh Slate. This piece is only 650mm tall and 800mm wide resembles a pyramid / mountain shape with a peak on the right hand side. This quite substantial piece of slate would form the central stone if placed as a triad with smaller accompanying stones. Full of moss and character giving this an instant weathered feel.
Out of stock
| | |
| --- | --- |
| Dimensions | 800 × 500 × 650 mm |
| Material | Welsh Slate |
| Colour | Grey |
| Application | Rockery, Standing Stone |
Japanese Monolith JM25 is a 800mm wide decorative landscaping rock hand crafted from real Welsh Slate. Ideal as a feature stone in a small or medium sized zen garden design, this piece has a flat sawn base for stability, packed full of character and loaded with moss giving this an aged and weathered feel. Picked direct from the quarry for its key characteristics with a triangular point facing upwards which is very popular and sought after in Japanese culture and Buddhism. This monolith would work best when placed as part of a triad of stones and would provide a good amount of width when placed alongside thicker, rounded feature stones. Please check the photos carefully as they are of the exact piece for sale and there is only one available. For inspiration and ideas check out a very simple minimalistic design on display at Chelsea Flower Show 2021, 'A Tranquil Space in the Ciy', designed by Mika Misawa, using a simple arrangement of just three plants in pots at varying heights, a simple grey boulder core drilled with an arrangement of box carefully cut into cubes. All tied together with small fine gravel which in Japanese design symbolises water.
You may also like…