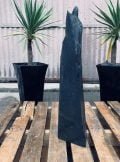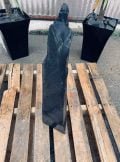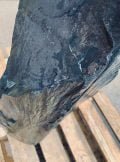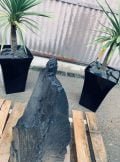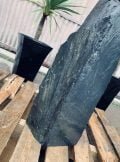 Japanese Monolith JM2
£275.00
Japanese Slate Monolith JM1 is a 700mm tall and slender standing stone for Japanese themed garden designs and landscaping projects. Hand crafted from real Welsh Slate this piece has stunning angles and some wonderful natural detailing in the stone.
Out of stock
| | |
| --- | --- |
| Dimensions | 200 × 160 × 700 mm |
| Colour | Black, Rustic |
| Material | Welsh Slate |
Large Stone Monoliths are increasingly difficult to source, and Japanese Monolith JM2 is an excellent example of a striking piece to be included in a medium or large scale garden design. This 700mm tall tower of real Welsh Slate lends itself well as a standing stone in a Japanese style garden due to its tall angular shape and beautiful organic textures within each face.
Delivery is via trusted courier or by Ioan Raymond himself. Japanese Monolith JM2 is made from 100% natural Welsh Slate, sourced from a North Wales quarry and hand finished by Ioan Raymond in his Southampton Workshop. Many customers like to use monoliths with a number of our garden accessories, including slate stepping stones, 20mm chippings and LED Lighting (available in the basket when purchasing a monolith).
[kad_youtube url="https://youtu.be/Qk6f-H9Tlac" maxwidth="100%" modestbranding="true"]