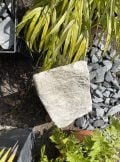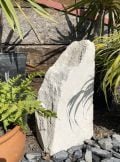 Stone Monolith SM56 Standing Stone
£275.00
Stone Monolith SM56 is a superb Portland Stone Monolith with a clean edge that contrasts beautifully with the opposite rough natural exposed edge. This is a stand alone monolith, perfect for adding texture and cool tones to a border, rockery or feature area of a garden. Portland Stone suits both rustic Cotswolds style gardens as well as clean modern designs, due to it's fresh light tones.
Portland stone standing stone
Complementary products available
1 in stock
| | |
| --- | --- |
| Dimensions | 250 × 150 × 600 mm |
| Material | Portland Stone |
| Application | Standing Stone |
| Colour | Cream, White |
| Size | Medium |
Stone Monolith SM56 is a stunning Portland Stone garden ornament. This can be drilled into a number of different designs but just as beautiful as a simple standing stone. Delivery can be arranged with our courier, alternatively this can be collected from the workshop, strictly by appointment only. Slate Monoliths of this size and shape are getting increasingly difficult to source.
For ideas and inspiration please have a look at my gallery for previous slate monolith garden water features. I've completed a number of these designs set up as a trio. One of my personal favourite designs incorporating slate in a variety of different ways was by the award winning designer Darren Hawkes. RHS Chelsea Flower Show 2015 for his Brewin Dolphin Garden Design gaining him the people's choice award. The use of slate in different forms from structures to flooring is truly inspirational. The window stone slate structure allows the viewer to have a different perspective on things. Read more in our Guide To Window Stones.
You may also like…