Ogwen Valley Window Stones
A mecca for walkers and climbers, the Ogwen Valley Window Stones have been installed to help focus visitors attention to the key points of interest as they enter this wonderful landscape. Made from real Welsh slate, these window stones are engraved with names of the mountains in the valley to help new visitors get their bearings and learn a little more about this breathtaking location. The window stones are sited just a short distance from the main Ogwen Cottage visitor centre, in the centre of the valley where the first expansive view opens up.
A total of six window stones have been installed in the Ogwen Valley with each looking towards a different mountain, namely Tryfan, Glyder Fach, Glyder Fawr, Foel Goch, Carnedd Y Filliast and Pen Yr Ole Wen. These summits make up some of the highest peaks and most popular hiking routes in Snowdonia National Park. Tryfan is one of the most visited peaks in Wales, receiving thousands of annual visitors looking to conquer the tricky north face route and reach the famous Adam & Eve stone monoliths on the summit. Glyder Fawr is the 3rd highest mountain in the country and it's neighbour Glyder Fach features the famous "cantilever stone" and the spiky shards of Castell Y Gwant.
Window Stones have become popular as garden features, with designers utilising them to frame favourite views or draw the eyes to a focal point. They make a nice alternative to stone monoliths or free standing stones. The window itself is core drilled which leaves a beautifully smooth finish on the inside. Window stones can also be vertically drilled to transform the stones into a mesmerising garden water features.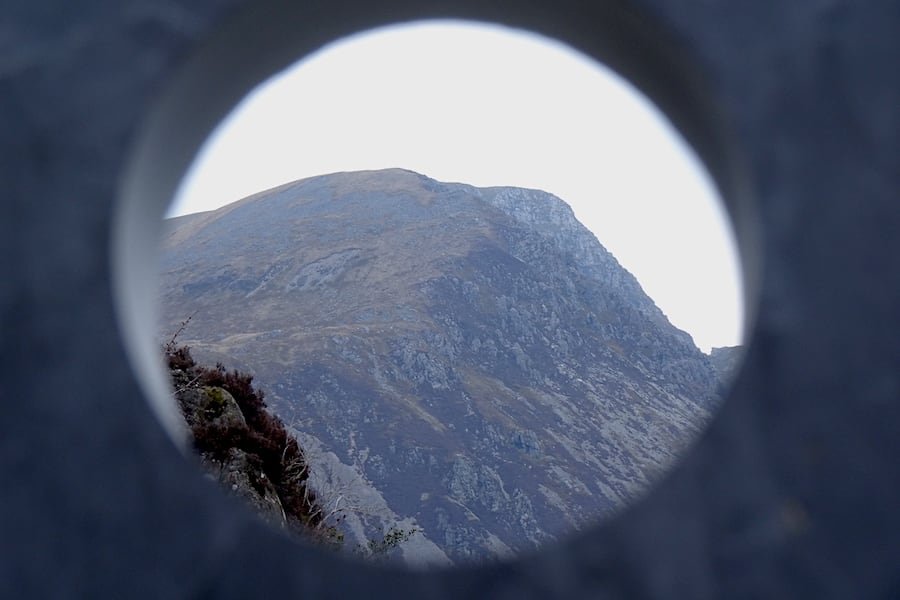 Buy Welsh Slate Window Stones
We stock a large range of beautiful window stones, hand chosen and crafted from genuine Welsh Slate. These window stones are available in a choice of sizes and styles and are perfect as focal points in garden designs and landscaping projects. Free Delivery is available for all standard UK postcodes, please contact us for remote areas and international shippings quotes.