How To Plan & Lay A Patio
Huge thanks to Rob Woodhouse at Solent Garden Services for contributing his lifetime of landscaping experience to this guest post for How To Plan & Lay A Patio in a garden design, full of great tips for your own patio project. Rob's contact details can be found at the end of the post.
As a second generation landscaper and a garden designer I have seen many trends in paving come and go. York stone, concrete paving slabs, sandstone, limestone, slate and porcelain paving have all had their moment in the limelight! One thing for sure is great looking garden paving never goes out of style.
Regardless of the choice of the paving the first thing to consider when considering how to plan & lay a patio is "what do you want from your patio"?
Is it a social area to chill and relax or is it more a practical/utility area you need in your garden?
Does size matter? Well yes if you are looking to create an outdoor space with a table to fit six people and fire pit!
Also consider the shape of the patio. With a huge selection of edging available you're not restricted to just straight lines, curves are most definitely do-able!
Patio Budget Planning
The next big question is budget. How much do you want to spend on the patio? There has never been so much choice so its relatively easy to find patio paving stones to fit any budget.
Budget Paving: sandstone is a very common natural stone for planning a patio on a budget, its durability and low price per square metre giving it perennial popularity.
Mid-Range Paving: limestone and granite are harder wearing and often contain much more detailing than sandstone, making them popular choices for those wishing to push the square metre price a little higher.
Premium Paving: porcelain is currently one of the top sellers in the paving market and although the price is gradually becoming more affordable it's still one of the most common choices for dream homes and super contemporary garden designs. Real Welsh Slate ornaments and water features are the perfect way to contrast the clean lines of porcelain.
How To Install a Patio
So you've chosen the size, shape and the type of paving for your patio but what's the best method of installing it? Just like the trends have moved in garden paving styles, laying methods have also changed and greatly improved over the years.
Methods and techniques vary depending on the type of paving slabs you are installing but key points to consider are:
Drainage (always run water away from your house whenever possible).
Ensure your sub-base is well compacted and concrete base is even and level.
'Dob and Dab' is no longer the preferred method of installing paving as the paving may work loose over time and the pointing will fall through over time.
Once you've installed your flagstones the pointing between the paving is next and of course there are more choices to be made:
Traditional methods such as mortar point or arrow pointing look fantastic with paving such as traditional York stone.
For a more modern look pointing compounds (which can be used in most weather conditions) come in a range of colours to add those little details to the paving.
When thinking about how to plan & lay a new patio the most important thing is your final garden project reflects your own style and becomes an outdoor space you enjoy!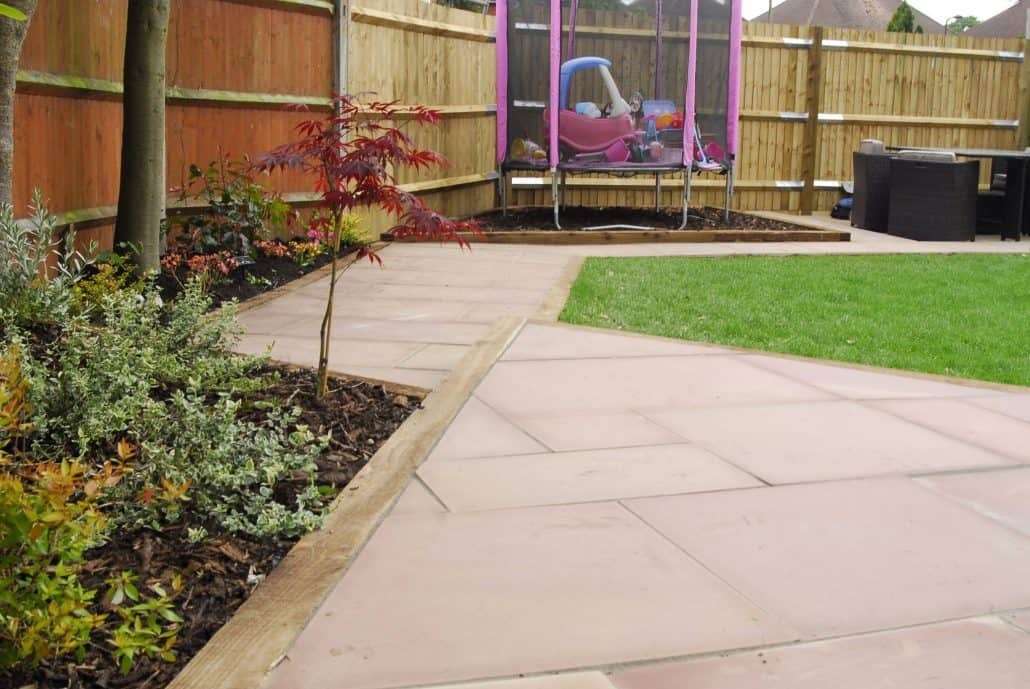 Contact Rob
Rob & Solent Garden Services provide landscaping and garden design for customers across the south of England.
Please mention Welsh Slate Water Features if you contact them for your garden project!
Phone: 07787 594 682
Website: www.solentgardenservices.co.uk
Guest Bloggers!
We're always to looking to collaborate with guest bloggers and cross promote each other via social media.
Learn More about our Guest Blogging…
More How To Guides
Our blog contains lots of gardening tips, tricks and step by step guides. Feel free to explore more…