WW1 Memorial Window Stone
I've cut and drilled a number of commissioned pieces for Caroline Dear, a local artist and sculptor who has exhibited at RHS Chelsea for a number of years, but this Memorial Window Stone was a piece that really stood out for me. The design was to reference the 100 years that had passed since the end of the First World War 1918 – 2018.
Window Stone Preparation
I sourced the slate direct from the quarry. had it shipped down to my Southampton Workshop and the first task was to drill out the large window stone hole. This took some time on the core drill, but the finished effect makes such a great feature and allows you to see right through the stone. You might be able to see two more small drill holes at the base, which is a technique I only use on taller slender pieces which act as stabilisers. Rods can be secured right through and then cemented into the ground to make the feature safe and secure.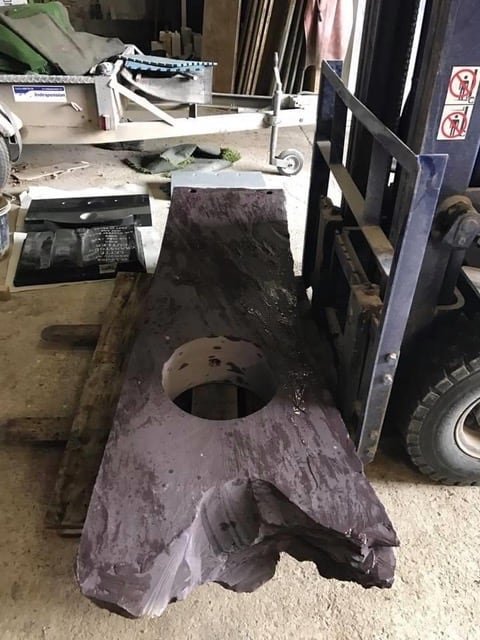 Window Stone Engraving
Next it was delivery over to Caroline's workshop, which was a large polytunnel on a garden nursery just outside Romsey, Hampshire. I then revisited Caroline after a couple of months to see how she was progressing. The detail of the poppies was fantastic and even though hundreds of hours had been spent patiently tapping away on the chisels, there was still many more hours to go. As well as the face being worked on, if you look closely you will be able to see that the poppies wrap around the side of the slate too. The final visit was very close to completion. The numbers had been finished and blended into the design underneath. The close up image just shows the stunning detail achieved. Caroline is still smiling having completed this fantastic sculpture!
RHS Chelsea
Then it was off to display at RHS Chelsea Flower Show. I managed to get a few close detailed shots of the large slate window stone on the stand. The slate stayed up in Chelsea as it was donated the Chelsea Hospital and now stands in the grounds of the gardens for all to enjoy.
This project has to be one of my favourites. I enjoy working with the client, capturing their requirements and understanding what they want to achieve. Sourcing the slate and then drilling it to meet their spec is very satisfying, it's helping them bring their vision and design to reality. When I see photos of the slate in situ in a garden, surrounded by lush greenery is a very enjoyable end to end experience, that not many people get to achieve.
If you're interested in a collaborating on a project similar to this then please get in touch, however, please understand that this process can take several weeks, although I do hold a lot of slate in stock, sourcing the right piece can take some time.