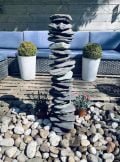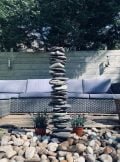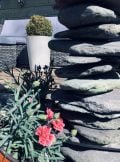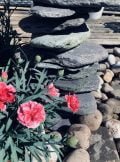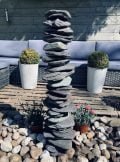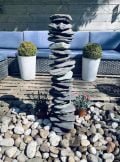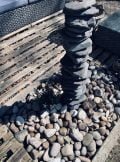 600mm Slate Paddlestone Water Feature
£475.00
Our Slate Paddlestone Water Feature makes a beautiful garden design sculpture. Rounded natural stones stacked up enhance any landscape project with a softness and delicate organic feel, with the pastel blues and greys are perfect for peaceful and tranquil garden spaces.
Stainless steel base plate included.
Reservoir & Pump available in the basket.
1 in stock
| | |
| --- | --- |
| Dimensions | 150 × 150 × 600 mm |
| Material | Welsh Slate |
| Colour | Blue, Cream, Grey, Mixed, White |
| Diameter | 35mm (water flow) |
| Application | Garden Border, Pond Accessory, Rockery, Water Feature |
| Included | Supplied With Stabilising Base Plate |
| Optional | Reservoir and pump pack (available in the basket) |
Our Slate Paddlestone Water Feature measures 600mm high and comes core drilled for water flow, available with our Small Reservoir Pack. Slate Paddlestones have tumbled, smooth, rounded edges and work equally well as a stand alone garden sculpture. With our stainless steel base plate each piece of slate just slots on top of each other, making this a very lightweight structure to manoeuvre into place.
Slate Paddlestone Water Features suit a number of styles, from modern contemporary garden designs to more traditional designs. As well as a patio feature, they work very well in amongst greenery and borders with splashes of colour. Please see our gallery for previous design ideas. Please contact us if you have any questions or queries or would like to commission a bespoke design for your own garden.
You may also like…