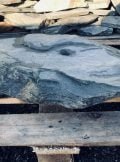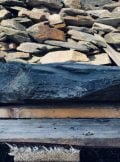 Slate Monolith SM96
£295.00
Slate Monolith SM96 is an absolute beauty crammed full of character and colour. Even though this is relatively short at 130mm it's rather wide at 680mm which will give a decent prolonged flow of water as it travels across the large surface area, before cascading down the edges. The subtle textures of real Welsh Slate are magnified on this beautiful Medium ornament with every side covered in unique natural stone detailing. This is a mix of rustic and Pembrokeshire blue colours adding to the rustic tones, which gets magnified when wet. The shape and style of this piece would be ideal for a Japanese style garden and perfect for attracting wildlife.
Out of stock
| | |
| --- | --- |
| Dimensions | 680 × 360 × 130 mm |
| Colour | Blue, Fools Gold, Rustic |
| Diameter | 35mm (water flow) |
| Material | Pembrokeshire Slate |
Medium Stone Monoliths are becoming increasingly difficult to source, and Slate Monolith SM96 is an excellent example of a striking piece to be included in a small or medium scale garden design. This imposing piece of real Welsh Slate echoes the countries' ancient forts such as Dolwyddelan Castle near Betws Y Coed and Pentre Ifan Burial Chamber in Pembrokeshire. This piece has already been drilled as a water feature and could well be used as a base piece for our popular Pyramids. This however does make it ideal as just a standing stone monolith. Smaller slate monoliths descending in size would complete this feature and make a great focal point. In order to fully utilise this piece of slate as a water feature, you will need a Large Accessory pack which includes all the components you require to operate this as a working water feature.
Delivery is via trusted courier or by Ioan Raymond himself. Slate Monolith SM96 is made from 100% natural Welsh Slate, sourced direct from a West Wales quarry in Pembrokeshire and hand finished by Ioan Raymond in his Southampton Workshop. Many customers like to use monoliths with a number of our garden accessories, including slate stepping stones, 20mm chippings and LED Lighting (available in the basket when purchasing a monolith).
Stone Monoliths are perfect as focal points in landscape designs, they add beautiful natural stone textures and when combined with the Large Reservoir Pack its possible to bring the vibes of Welsh waterfalls to your garden. Natural stone and water help bring tranquility to an outdoor space, ideal for balancing harmony and increasing the potential for mindfulness in your garden.
[kad_youtube url="https://youtu.be/Qk6f-H9Tlac" maxwidth="100%" modestbranding="true"]