First Visit To RHS Garden Wisley
We thoroughly enjoyed our first visit to RHS Garden Wisley in Surrey on a spectacular summers day, the hazy blue skies and 30+ temperatures showing off the gardens in glorious full colour! There's so much to take in over the 240 acres of this iconic British garden we already feel we need another visit! We hope you like reading about our first impressions and enjoy our photos from the trip.
First Impressions
Arrival at RHS Garden Wisley is straightforward, just a mile or so from the M25 motorway junction and the car park is sensibly spread out to allow for large volumes of visitors. At the entrance it's possible to choose between the Garden Shop or diving straight into the Gardens themselves. The courtyard area is open, inviting and well signposted.
Being the natural stone geeks that we are here at Welsh Slate Water Features, we headed straight for The Rock Garden – one of RHS Garden Wisley's oldest and most magnificent water features. Flowing beautifully from the Alpine Meadow, the stone steps wind through the rockery to the sound of water flowing all around. We also really enjoyed seeking out the current sculpture installation pieces around the gardens, more about that further down!
Succulent Art
In a quiet courtyard adjacent to The Laboratory building and Jellicoe Canal we discovered a great display of succulent plants installed as art work. We loved the peaceful ambience in this small space, the minimal layout and clever planting gently invites contemplation and pausing for mindfulness.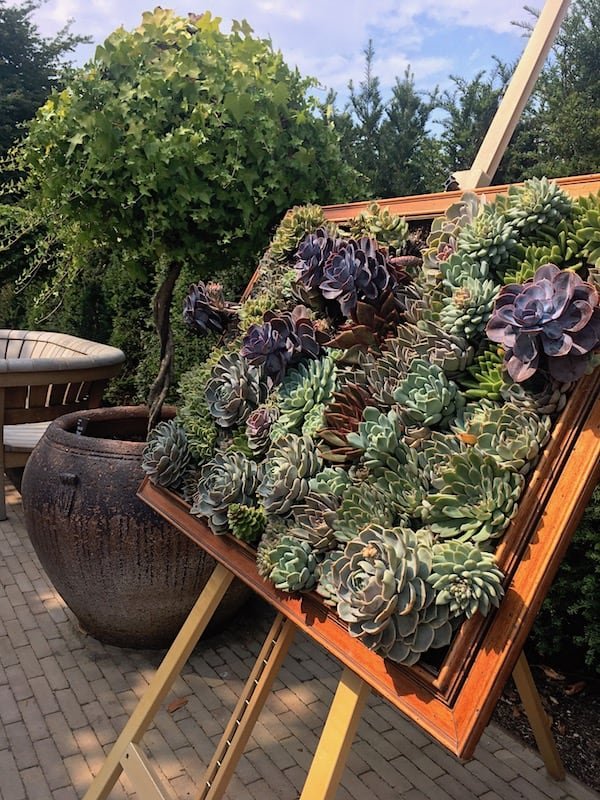 RHS Garden Wisley Photos
A small gallery of snaps taken by the team around RHS Garden Wisley on this sun soaked August afternoon! It's also worth mentioning how impressive the garden centre and shop are at RHS Garden Wisley. So much care obviously goes into the arrangement, layout and maintenance of the whole store.
Four Seasons Sculptures
As we alluded to earlier, an incredibly unique installation by filmaker and sculptor Phillp Haas is available to view until the end of the year at Wisley. Standing a gigantic 5 metres tall, these figures are 3D interpretations of 16th century Italian artwork depicting the four seasons. We discovered a great blog post by photographer Mark Spencer titled "Inspired By Sculpture" that includes unique photos of Philip Haas' work.
Visit RHS Garden Wisley
RHS Garden Wisley is located in Surrey, just off the main M25 motorway circling London. If you're planning your first visit to RHS Garden Wisley we'd really recommend getting there early in the day to make the most of the trip. There is so much to enjoy we're already planning our next visit!
Address: Wisley Ln, Wisley, Woking GU23 6QB
Website: www.rhs.org.uk/gardens/wisley