Trio of Slate Monoliths sourced, drilled and delivered to a stunning project in Southern England. Earlier in the year JJ Lockroy contacted us to source, drill and supply an XXL Slate Monolith Water Feature for a prestigious development in the South of England. Good quality slate this big, with shape and character is very difficult to source but after reaching out to our network of quarries in North Wales, we were lucky enough to source this stunning piece direct from the quarry in the heart of Snowdonia. Slate Monoliths of this magnitude need to be handled very carefully so we contracted in Phil Bascombe Transport Ltd to do the heavy lifting for us.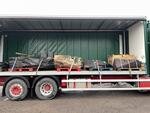 During the design stage the requirement was extended to include not just an XXL Slate Monolith but another two more drilled Slate Monoliths in descending heights to surround the larger stone and act as a triad with a centre piece. We also consulted on the specification for the bespoke water feature reservoir to ensure this could withstand the extensive weight. Supplying the water feature pumps, hose, clips and taps ensured everything was delivered to site in one single co-ordinated delivery. Daniel Louisy created this video for his Ashville Aggregates You Tube Channel.
The water feature installation was executed perfectly by the client and we absolutely love the finished look. We hope you agree too. If you're planning a similar build or require consultation to assisst with the design process then please get in contact with us now.