Top 10 Outdoor Shower Makeover Tips
The idea of a shower in the morning mist or under the stars exemplifies the harmony between home and nature that designers have been trying to perfect for centuries.
An outdoor shower is a sensory experience you can savour at the start and end of every day. It creates a space where you can relax, practise mindfulness in the garden and wash away your worries. However, there's a lot more to an outdoor shower than just a showerhead and a space to stand under it.
Here's a selection of ideas that will enhance the experience and boost its aesthetic, whilst still keeping in line with the simple, natural philosophy at play.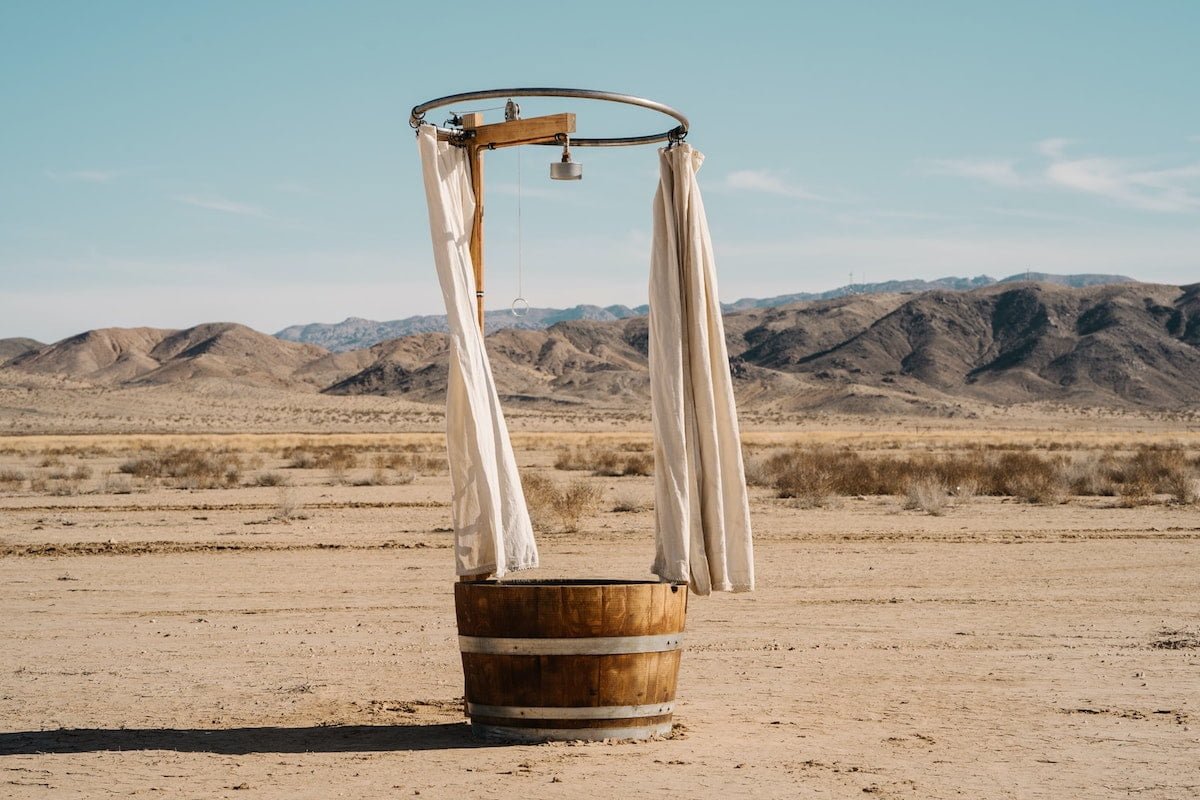 1. Install a Solar Geyser
Before you even start on the project—although it's still doable after installation—consider using a solar geyser to warm the water in an ecologically and economically friendly way. What better way to enjoy your outdoor shower than knowing that the heat of the day is warming up the water? Plus, you'll reduce your energy bills at the same time.
2. Build a Latte Screen
Once the installation of your shower is complete, consider the type of privacy screen you want to erect around it. A raw timber screen, although it has its own simple charm, can be a little limiting if you want to bring an element of greenery into your shower space. Consider using latte fencing instead. Latte are treated yet more organic-looking poles that are usually made of sustainably harvested gum trees. Latte screening can double as a trellis for fast-growing creepers such as rambling rose, sweet pea, nasturtium or Virginia creeper.
3. Weather-Resistant Large Globe Fairy Lights
If you're looking to add ambience and a touch of magic, these beautiful globes will enhance the charm of your outdoor shower space on nights when the moon is low. They're also perfect for situations where the shower is under some kind of awning. Large globe fairy lights will surely impress your guests and can add something special to your shower. You can opt for lights that will either twinkle or stay static, but be sure to go for a warmer colour. A cool white light can look cold, but a yellow light adds an extra sense of warmth.
4. Plant Ferns in Wall-Mounted Pots
Lush and luxurious, ferns love water and are just as at home around water features as they are in your bathroom or outdoor shower. The damp environment suits them perfectly and they'll thrive in these ideal conditions. To add to the greenery of your outdoor shower in a practical way, find some wrought iron wall-mounted pot holders and place a few on either the wall or wooden screen. To avoid the plants taking up too much space, look for asparagus ferns as they are small and delicate.
5. Create a Moss Wall
With only a handful of ingredients—sugar, yoghurt, water and a handful of moss—you can create a paint that grows. Many individuals have used moss paint for street art and landscaping purposes. If the structure you've attached your outdoor shower to is suitable, a moss wall can add to the lush, natural atmosphere of the space. Once you've blended these ingredients, use a roller brush to apply to the surface of your choice. In a few weeks, you'll see your moss wall spring to life and every time you shower, you'll be watering it too.
6. Add Pegs and Rails
Make sure to have some clothes hangers and towel rails just outside the entrance to the shower, and maybe even two pegs for shoes. Outdoor showers are essentially wet rooms, and you don't want the unpleasant surprise of coming out only to find your clean clothes or pyjamas sopping wet. Because of the rising popularity of glamping, outdoor heated towel rails are now readily available if you want to take the experience up a notch.
7. Install A Welsh Slate Bench
If your privacy screen extends a little further than the shower itself, consider installing a Welsh slate or stone bench. Having a place to sit and soak up some steam is always soothing after a long day or exercise session, but even its mere presence is a statement.
8. Build a Rockery
Rockeries are back in fashion, and for good reason. These small stone gardens require little maintenance, allow for creative flair and have an elegant, contemplative feel. A rockery planted just outside the wooden screen is easy to maintain using the runoff from the shower to keep the plants sustained and flourishing. This is also a good way to upgrade the exterior, even though the magic takes place inside. If you're stuck on where to start, our article on how to build a rockery will help.
9. Plant Mint Under the Mixer
This is another idea for a larger shower enclosure and is perfect for a space that has a bit of a farmhouse bathroom look and feel. There's nothing like combining your outdoor space with growing a useful plant. Placing a mint bush in a spot that catches any drips and drops will not only give you a thriving herb you can use in the kitchen, it also creates a beautiful aroma. Think of it as a natural diffuser. There are many different varieties of mint—from a hardy garden mint, to the richly scented chocolate mint.
10. Add a Variable Spray/Steam Attachment to Your Showerhead
Adding a steam shower attachment can not only reduce your water usage, it can also give you the option of turning your outdoor shower into a small steam room. Having a spa-like treatment in your back garden is the height of luxury. Just imagine how the steam will lift the scents of your mint or lemongrass into the air and settle them on your hair and skin. You'll feel good naturally and every shower turns into a mood booster. If you're unsure of how to upgrade your outdoor shower, you should now have some beautiful ideas. Draw inspiration from these tips and create a space that's about so much more than simply getting clean.