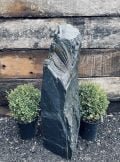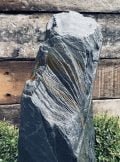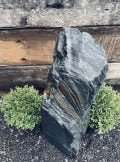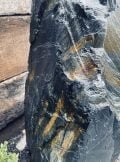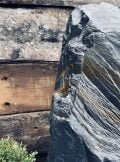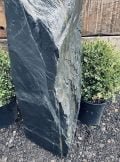 Japanese Monolith JM7
£495.00
At just under 1m tall, the base of Japanese Monolith JM7 is thick and substantial and the stone slightly tapers up to the top with some incredible colours and detail. The front face has a gentle sloping feel to it, reducing in thickness towards the top.
Out of stock
| | |
| --- | --- |
| Dimensions | 300 × 200 × 980 mm |
| Colour | Fools Gold, Mixed, Rustic |
| Material | Welsh Slate |
This piece can not be drilled as a water feature.
Large Stone Monoliths are becoming increasingly difficult to source, and Japanese Monolith JM7 is an excellent example of a striking piece to be included in a medium or large scale garden design. This imposing tower of real Welsh Slate echoes the countries' ancient forts such as Dolwyddelan Castle near Betws Y Coed and Pentre Ifan Burial Chamber in Pembrokeshire. This is a nice lean monolith which make it easy to handle. The detailing and colouring on the top really is smart looking. Smaller slate monoliths descending in size would complete this feature and make a great focal point. We can supply smaller monoliths and rockery pieces to compliment this stunning slate water feature.
Delivery is via trusted courier or by Ioan Raymond himself. Slate Monolith SM105 is made from 100% natural Welsh Slate, sourced from a North Wales quarry and hand finished by Ioan Raymond in his Southampton Workshop. Many customers like to use monoliths with a number of our garden accessories, including slate stepping stones, 20mm chippings and LED Lighting (available in the basket when purchasing a monolith).
The subtle textures of real Welsh Slate are magnified on this beautiful Large ornament with every side covered in unique natural stone detailing. This is a grey colour mixed with vibrant colourful stripes adding to the rustic tones. The shape and style of this piece would be ideal for a Japanese style garden.
[kad_youtube url="https://youtu.be/Qk6f-H9Tlac" maxwidth="100%" modestbranding="true"]