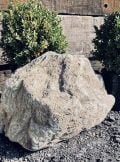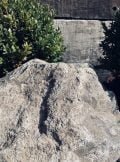 Granite Boulder GB5
£265.00 – £295.00
Granite Boulder GB5 is a lovely natural cream coloured boulder which transforms in colour between wet and dry. Full of earthy tones and character. Can be placed as a feature stone or core drilled as a water feature. This piece is a perfect feature stone for a compact garden design.
| | |
| --- | --- |
| Dimensions | 600 × 300 × 370 mm |
| Material | Granite |
| Colour | Cream, White |
Granite Boulder GB5 is rather rough and rugged and full of earthy tones. It has amazing shades of white and cream which change when the stone is wet and dry. This beautiful garden rock ornament has been ethically sourced from a UK quarry and hand finished by Ioan Raymond in his Southampton workshop. Discover lots of how to guides and gardening tips on our Blog. Small garden boulders add texture and accents to garden designs and landscaping projects.
This can easily be drilled and transformed into a water feature and would fit on one of our smaller reservoir packs which can be found on the Accessories page. Lighting can also be added to finish this off in style. We have a few more of these boulders in different colours which we will be adding to the website shortly. If you require a number of these please contact us so we can create a package of boulders for you and save you money on the transport. Approximately 4 to 5 of these could fit onto a single pallet.
Boulders are so versatile and have a range of uses. Some of these include just simple sculptural and ornamental designs which help break up large areas of planting and when combined with small gravel or chippings can create great interest. Other designs effectively use boulders to mark certain areas or boundaries for traffic management purposes. Rounded smooth boulders work especially well in playground areas or activity centres where kids can exercise and play and climb over them. They can also be used as memorial stones and can be modified to accommodate plaques or signs or be carved directly onto. When combined with a mix of large stand out boulders and smaller sizes to accompany them, they can make a great addition to any landscape.