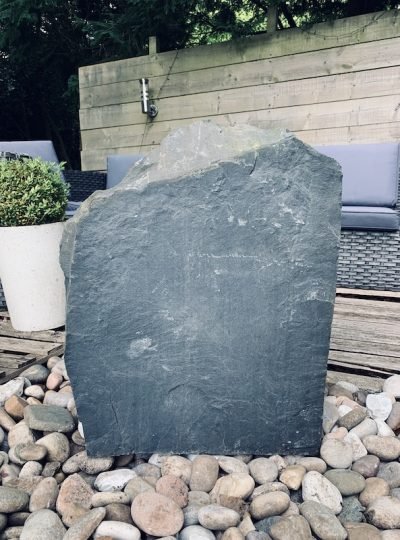 Slate Monolith SM29
Slate Monolith SM29 is a great example of premium Welsh slate with a naturally split face. This would be ideal for engraving (at extra cost) or placed at the front of a driveway as a house sign. This could also be transformed into a window stone or would make a perfect waterfall ledge if laid flat. This piece is multi purpose and would go well in any style of garden design. It could also could be paired with Slate Monolith SM30 to create a beautiful duo of Welsh Slate Monoliths.
£

210.00
Add to basket
S O L D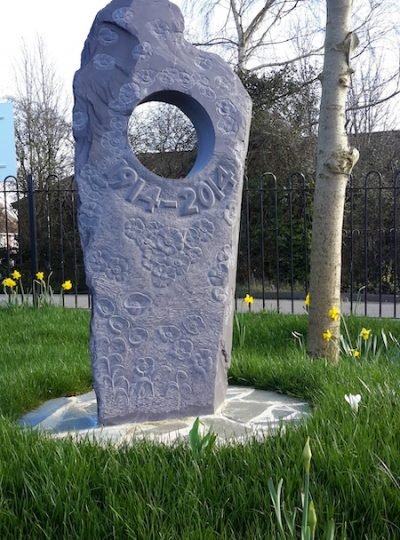 Carved Poppy Window Stone
This Carved Poppy Window Stone is an example of a piece I sourced, cut and drilled and supplied to a stone carver, Caroline Dear. Read more about this particular piece in our World War 1 Memorial Window Stone blog post.
By nature, memorial stones are completely unique pieces and pricing is bespoke for each requirement.
If you're looking for something similar please get in touch via this contact form.
£

750.00
SOLD
About Our Stone Memorials
Welsh Slate Water Features provide Stone Memorials in two formats; firstly a number of our Stone Monoliths are suitable for custom engraving due to the flat nature of their fascias. Secondly, we can source pieces of natural stone to specific requirements and of course provide any necessary finishing by hand.
We have trade partnerships with many garden designers, landscapers and professional sculptors, resulting in pieces such as the World War 1 Memorial Stone we worked on with Caroline Dear, displayed at RHS Chelsea Flower Show. TV celebrity Calum Best dearly loves the Medium Slate Monolith we provided for his London city garden design.
Custom Sizes - ethically sourced to order from UK quarries
Choice of Stone - Welsh Slate, Portland Stone, Purbeck Stone + more
Engraving - quotes available for any engraving request
Stone Memorial Enquiry
Complete this short contact form to receive a callback, please include details about your garden design and requirements to help us deal with your enquiry.