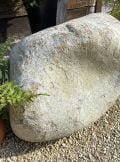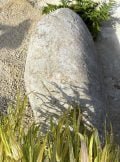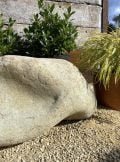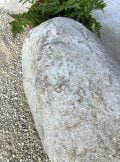 Granite Boulder GB44 Standing Stone
£695.00
Granite Boulder GB44 is a large sized undrilled boulder full of natural earthy tones and textures with a weathered aged feel to it. This can be used as a decorative stone, placed in a border or pathway and would work equally as well as a garden seat, to sit, relax and enjoy your garden space.
Granite Boulder landscaping rock
Accessories available in the Basket
1 in stock
| | |
| --- | --- |
| Dimensions | 850 × 550 × 400 mm |
| Material | Granite |
| Colour | Cream, White |
| Application | Decorative Stone, Garden Border, Standing Stone |
Granite Boulder GB44 is an excellent example of a striking piece to be included in a large scale garden design. This colourful piece of real Welsh Stone with light earthy tones and some interesting and unusual curves and edges. Granite Boulder GB44 is made from genuine Welsh stone, sourced from a North Wales quarry and hand finished in the Welsh Slate Water Features workshop in Southampton. Many customers like to use boulders with a number of our garden accessories, including slate stepping stones, 20mm chippings and LED Lighting. 
Stone Boulders are perfect as focal points in landscape designs, they add beautiful natural stone textures and although they look good, they can also be functional and used as seating. This allows one to sit back and relax and really enjoy your garden and surroundings. Natural stone and water help bring tranquility to an outdoor space, ideal for balancing harmony and increasing the potential for mindfulness in your garden.
You may also like…